Who We Are
The Kearns family gained national acclaim when the true story of their courageous fight against Ford Motor Company was made into the major motion picture  "Flash of Genius" by Universal Studios.
Dennis Kearns now puts his decades of experience in litigation, finance, marketing, patents and investigation to work for you.
As a licensed investigator, a brilliant strategist, and a tenacious litigator,  Dennis Kearns can "make it happen" – no matter how difficult the project, how big the competition or how tough the odds are stacked against you.
If you are facing a situation that requires unique strategic thinking or unparalleled investigative techniques, call Dennis today for a free, no-obligation consultation.
What We Do
Dennis Kearns offers complete business solutions & consulting services for small or large businesses. He has the resources, the experience and the network to help you accomplish even the most difficult project.
For more than 25 years Dennis has helped clients protect existing assets, and develop new ventures, programs and revenue streams.
Dennis' ability to see the big picture,  and to think outside-the-box and devise customized strategies, is what sets him apart from other consultants. Dennis is also a fully bonded and  insured  licensed private investigator.
Call Dennis today for a free, no-obligation consultation to see how he can help you rapidly & affordably implement the solutions that will take your business to the next level!
The Movie: "Flash of Genius"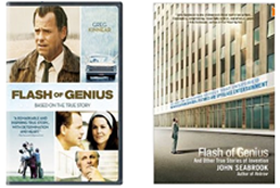 The fascinating true story of the Kearns' family three decade litigation with Ford Motor Company became a best selling book and the motion picture "Flash of Genius" starring Greg Kinnear.
Watch the movie or read the book to learn the true amazing  story of Dennis & his dad, as they fight to obtain recognition & compensation for the intermit- tent windshield wipers invented by Dennis' father.